2tune (HDR-3000T) + H3 Package
Twin Tuner Quad Recorder & Smart Media Player
The Perfect Blend for Catch-up, Live and Recorded TV
Get Connected. Get Entertained.
H3 the perfect companion to the 2Tune – Multi-room TV without an aerial!
Get maximum performance from Twin Tuner Quad Recorder 2tune.
Connect instantly to your home network and enjoy the best in Catch up TV and additional Apps.
A new way to watch live TV and online entertainment.
Add an H3 the perfect companion to the 2tune for Multi-room TV without an aerial!
Multi-room TV without an aerial!
Partner the H3 with any Humax 2tune and stream recorded content and live TV via the PVR's hard drive utilising its 2 tuner capacity.
The H3 is the simple way to view free live to air on any TV without an aerial!
When partnered with a 2tune, the H3 will view live TV from one of the built in two tuners. Not only that all your recorded programmes can also be viewed via H3 given you multi-room TV in any room you choose!
*Download the app 'HUMAX Cast' on your iPhone (iOS7 or later) or Android mobile.
*Please be advised that HDR-3000T requires an aerial cable.
2 Tuners 4 Recordings
2tune is able to record 4 programmes from two different networks and stream one live channel to mobile devices while watching back a recording.
Learn More
What is IceTV?
IceTV is a software service that manages all your TV recording for you. IceTV's Intelligent recording software and program discovery tools help you find good TV shows you may have never thought of, and our smart recording features ensure you won't miss them. Features such as keyword alerts, keyword recording and smart series recording help you manage your recordings with a tap of an app or the click of a mouse. Just sit back at home and replay, at a time that suits you. Importantly, for accurate program recording, IceTV's team hand-curates the most reliable Free-to-Air TV Guide, so whether shows change time slots, channels or name, you won't miss them and instead you'll enjoy watching TV. Our service is provided via our smartphone apps or website so you can easily use it wherever you are, only having to turn on the TV to enjoy your recorded TV shows.
IceTV enables you to control every aspect of recording of Free-to-Air TV – It's your own personalised catch-up TV experience. That's the power of IceTV.
New Guide
New generation of TV Guide enables you to channel-surf and find favourite programmes with easier control.
You can now watch live TV, go back to the past, play back recordings, and find programmes direct from the TV Guide.
Learn More
Setting Up Recordings
Set up reminders, recordings or series recording with various options to suit your preferences.
Learn More
HUMAX Mobile Apps
Stay connected with 2tune wherever you are. Set up recordings, watch them or control 2tune on your mobile devices supporting either iOS or Android.Learn More
Remote Scheduling
Through myhumax.net or Live TV App, you can set up recordings on 2tune outside your home network.
Learn More
Networking
Connect 2tune to your home network more easily with Wi-Fi adaptor. When 2tune is connected, you are connecting all networking devices with 2tune.
Learn More
A new way to watch live TV and online entertainment.
The Perfect multi room solution when combined with the 2tune
The Best Way To Watch Netflix
From the most talked about TV shows and original programming, including Luke Cage, Orange Is The New Black, Narcos, and House of Cards to the latest must-see blockbusters. Netflix brings you a world of entertainment to your Humax box. Try today with a 30 day FREE trial.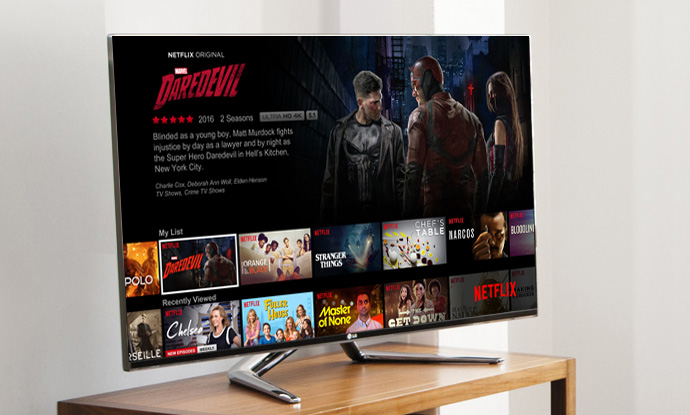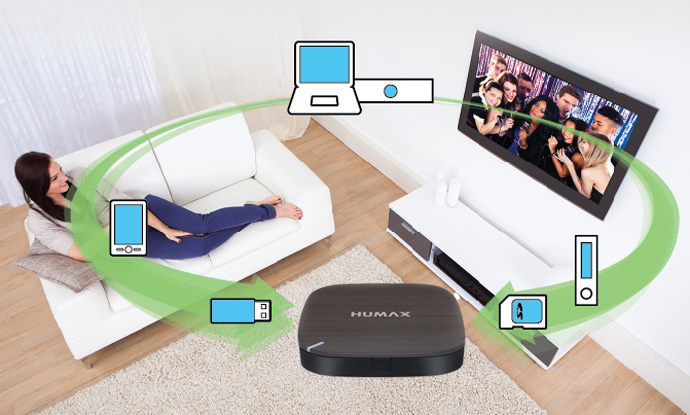 Media Player
Browse, access and play all your media content regardless of file type from your Home Networking connected devices. Play content directly from your mobile, tablet, laptop or other devices on your HDTV on the same network. Media Player supports network protocols including Samba, FTP and WebDAV.
Alternatively insert a USB and play back your collections of videos, photos and music!
Wireless Display
Cast your mobile device* screen onto a big TV screen for maximum enjoyment. Show off your photo's movies in full size or listen to music files in the comfort of your living room with family and friends.
*H3 supports Android at present.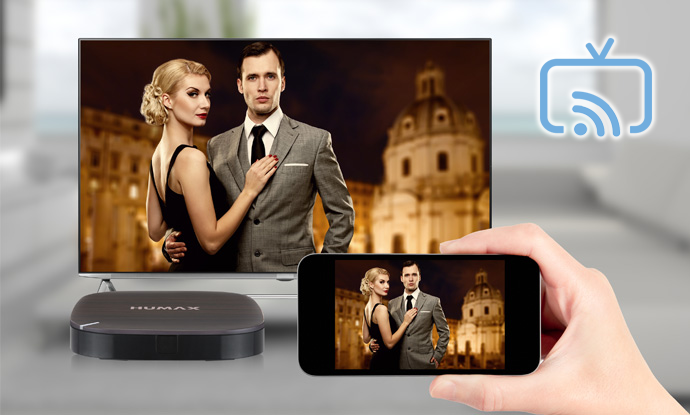 Easy to use on screen Programme Guide
Once connected to the 2tune you can use the Built in Electronic Programme Guide to easily view and record programmes using the three tuners and hard drive in the 2tune.
Industry Design Awards
Our stylish and compact H3 Espresso with its wood effect top and slim black base has been awarded the prestigious IF Award, reddot Award for its stunning design and engineering excellence.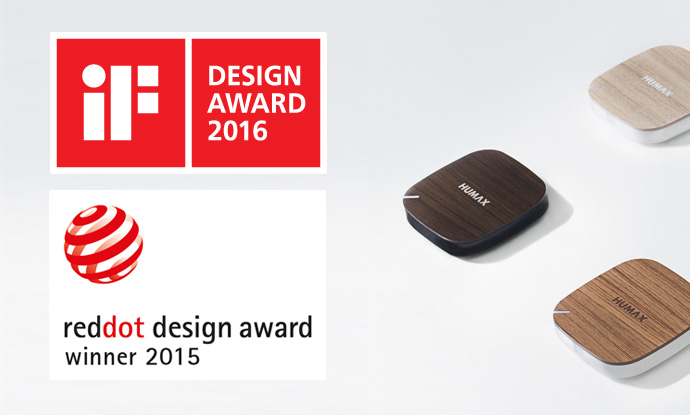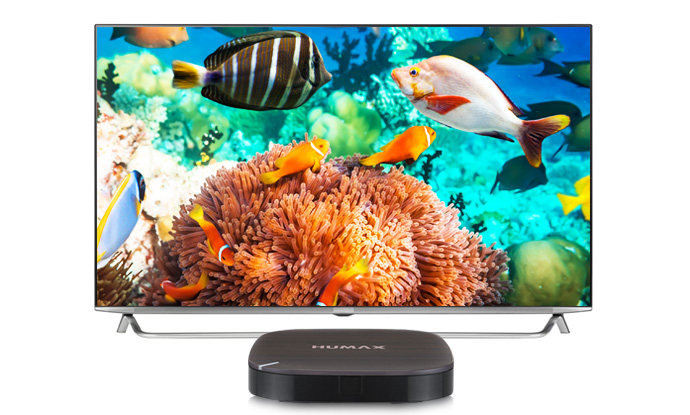 Enjoy beautiful HD picture quality
Full HD 1080p HEVC built inside for pin sharp viewing pleasure.
Excellent Connectivity
Wi-Fi built in for wireless connection to your home network, Bluetooth inside for sharing content from connected devices. HDMI socket for simple connection to your TV and SPDIF for high quality audio. The Ethernet socket is also available for wired connection if your wireless network weak. The USB 2.0 input will let you see and hear videos, photos and music files directly.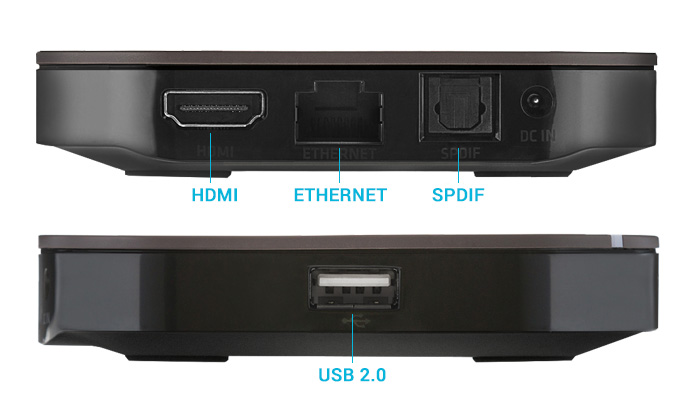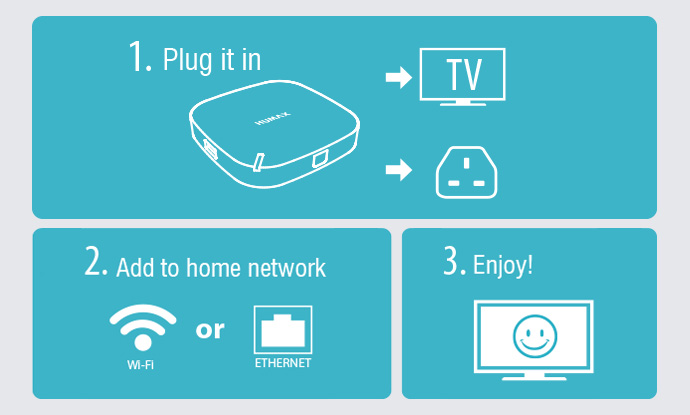 Simple Easy Set Up
Have your H3 Espresso up and running in a matter of minutes simply connect to the power socket connect the HDMI to your TV and power up the step by step on screen guide will ensure your enjoying Free TV and IP content in minutes!
Humax Eye IP Camera compatibility
Watch recordings from your Humax Eye IP Cloud camera from the comfort of your own sofa with the built in Humax Eye app.
View Humax Eye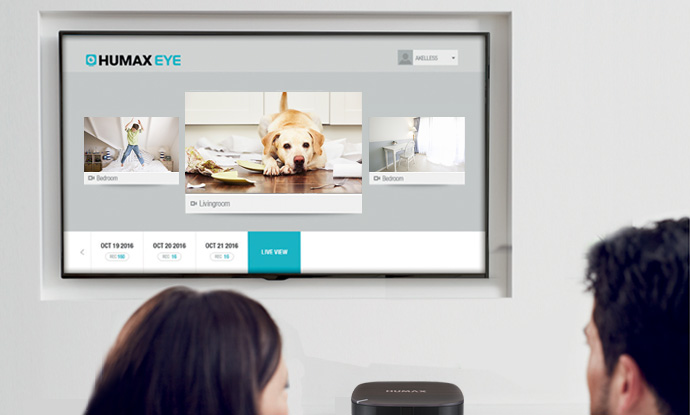 Peace of Mind
All Humax products come with a full 24 month parts and labour warranty which can be extended by another year by registering your purchase details within the box or on line at: https://au.humaxdigital.com/warranty-registration/
Do remember to keep your original receipts for proof of purchase.
For further information please contact Humax Customer Support
(Email: https://au.humaxdigital.com/email / Tel: 1300 737 937)