Humax set-top box selected as the best terrestrial hybrid product in the UK by multiple technology media companies
– Famous British technical journals select Humax's YouView-dedicated set-top box as their 'best product'.
– Humax's product favorably reviewed by technology sites such as T3, TechRadar, CNET. etc.
November 19, 2012 – Humax's YouView-dedicated set-top box has been awarded 'best product' in the UK by various technology media companies.
On November 19, Humax (CEO Dae-Gyu Byun, www.humaxdigital.com),announced that Humax's terrestrial hybrid set-top box was awarded the 'Video Gadget of the Year' at the 'Stuff Gadget Awards 2012' held by Stuff, a specialized IT gadget magazine. In addition, its product received favorable reviews from other media outlets too.
The product, released last July, is the world's first 'YouView' dedicated set-top box (model name: DTR-T1000) which allows users to receive 70 live digital television channels as well as internet-based services such as VOD services provided by the BBC, ITV, Channel 4, Channel 5, etc., and a Catch-up TV service that allows users to watch programs broadcast during the last 7 days.
Stuff magazine gave Humax's set-top box a perfect score of 5 stars and said "YouView is capable and clever, and the Humax is an excellent PVR. Internet TV has gone mainstream." Humax's product was awarded the 'Video Gadget of the Year' after beating out rivals such as Sony, Panasonic, etc.
The 'Stuff Gadget Awards' is an event held by the British IT-specialized magazine Stuff to select the best product through the votes of an expert panel and common readers. The magazine is published in 26 countries throughout the world giving it an authority and influence well-recognized in corresponding industries.
This success follows the YouView Humax set-top box winning multiple awards from other well-known IT gadget magazines in the UK, such as the 'Best Buy' accolade at the What Hi-Fi? Sound and Vision awards, and the 'Product Innovation Award' at the ERT Weekly awards last month.
Furthermore, the premium IT-specialized magazine in the UK 'T3' noted that "Humax PVRs are traditionally well made and this model seems no exception. The user interface is fast and intuitive, image quality top notch and the way IPTV services have been wrapped into the mix beguiling." In addition, 'TechRadar' lavished praise by commenting "This first generation Humax box offers the best integration of On Demand and Catch-up available from any platform. What we have is a forward looking Freeview HD PVR which fundamentally changes the user viewing experience." Furthermore, many famous IT gadget review sites such as CNET, Which?, Trustedreviews, etc. commented favorably about the product.
Tae-Seop Kwon, President of Humax Europe said "Humax has lead the British digital broadcast market and its innovation. Again, Humax is leading innovations by releasing a YouView-dedicated set-top box for the first time anywhere in the world. I'm sure that Humax will take the lead in this new emerging market, which is the next generation hybrid broadcast market."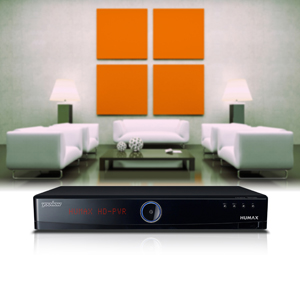 [Image Description]
Humax's YouView-dedicated Set-top box (model name: DTR-T1000) selected for 'Video Gadget of the Year' at the 'Stuff Gadget Awards 2012'.